Ministry Focus
With more than 15 years of pastoral experience, Zac has led a church re-plant, worked as a middle school, high school and college minister and most recently supporting two young churches in Brooklyn in their outreach and justice efforts. Over the last 10 years as part of his work in New York, Zac has trained churches and leaders in how to better serve their communities, organized forums and events to help the church be more effective in loving and reaching the city. With a heart and gift for preaching, Zac preaches regularly at a number of churches and chapel services around the city. Zac is also a youth mentor, working with a number of public housing residences and high schools and is a regular speaker at their school events. Zac Martin is an urban missionary joining the staff of Next Step Community Church to help the church better support, serve and bless their city. Through partnering with and supporting the staff of Next Step Community Church, Zac's heart and passion are to empower, equip and train people to find their important place in God's kingdom. He is particularly passionate about elevating the voices, struggles, and desires of the marginalized and cares deeply about how the gospel informs and empowers us in issues of justice and mercy Zac is eager to support Next Step Community Church through helping strategize and implement training to mobilize people to use their talents, capacities and stories to bless and serve the community and in so doing help raise the profile of the church to the surrounding community. Zac will also be a support to the pastoral staff in caring for the needs and souls of the congregation.
Faith Story
Born into an unbelieving home, Zac had only been in church once before the age of 16. But, during high school, Zac was introduced to the church and Jesus through his mom's spiritual journey.  While living in Mexico, Zac's mom met a missionary who introduced and led her to Jesus.  In college, Zac experienced a season of his life being turned upside down. Losing his job, his long-time girlfriend and with a dream career in broadcasting seemingly bleak, Zac hit rock bottom. Through the faithful prayers and care of his parents, he agreed to come to a church service where the pastor preached a sermon. "Why do good things happen to bad people and bad things to good people."  At the end of the sermon, the pastor taught that none of us are good, that we all sin and fall short of God's plan and purposes for us and need to trust in what Jesus did and finished for us.  Sitting in the front row of the church, Zac became aware of his need for and love of Jesus.  From that day in July 1998, his heart has been to learn more about Jesus and to serve and love his church and help others know Him. Mel, Zac's wife grew up in a Christian family and came to believe in Jesus at a young age while at a youth camp.  However, through the death of her grandfather and a serious illness in college she went through a season of re-evaluating what and why she believed in God.  It was ultimately the love of a church community and the witness of her family members that led her to see the grace, love and life that God was offering.
Family
Zac met Mel through Zac's step-father and step-brother, who were on a mission's team together with the church that Mel had joined and the same one Zac became a Christian at. Through hearing about Zac during the week-long trip and then returning to the college ministry Zac attended to tell about their experience, a friendship and attraction formed quickly. They were engaged and then married in a little over three months in August 2000 and today have two girls: Ellie and Lucy. From the moment Zac was introduced to Jesus, God birthed in him a desire to serve the church through the leadership, teaching and preaching gifts, God has entrusted to him. Zac and Mel both have a deep heart and commitment to the local church, marginalized people and the city.
Education
Algonquin College, Ottawa, Canada, Radio-Broadcasting Briercrest Bible College, Caronport, Canada, One-year Bible certificate Heritage Theological Seminary, Cambridge, Canada, completed studies towards Masters of Divinity Sovereign Grace Pastors College, Louisville, USA, One-year church planting intensive

WAYS TO SUPPORT

Zac by making a financial donation using your credit or debit card.
Learn more about where this ministry happens
In colorful communities and along scenic highways, diverse people and landscapes span coast to coast
Iconic American traditions include Thanksgiving dinner, jazz music and the Super Bowl. They meld with eclectic examples of multicultural heritage: numerous local Chinatowns, family-owned taquerias and even cowboy boots, which originated among the nomadic Huns of eastern Europe.
The nation's landscape shows just as many contrasts — sandy beaches and rocky coastlines, open plains and vast deserts, rugged mountains and winding canyons, and abundant rivers and lakes.
The ideals of life and liberty that founded the United States have made the country one of the world's most prosperous, though not without dark chapters and present troubles. Crime, discrimination and ethics violations make regular headlines, and many people live below the national poverty level.
Families view education as essential to the pursuit of happiness, if not also a path to wealth and power for the most ambitious. Yet Americans also demonstrate a charitable spirit of generosity toward neighbors and nations in need.
Freedom of religion grants opportunity for all faiths, but Christianity holds particular influence in country's history and daily life.
Your participation with Missions Door supports ministry in the United States among college students, including many international students, in collaboration local churches. It also enables social outreach, church planting and leadership development in a wide variety of communities — among Native Americans and other cultural groups, and in urban and suburban settings where growing and changing demographics create new opportunities for the Gospel.
Cultural Snapshot
Aside from the Native American, Native Hawaiian and Native Alaskan populations, nearly all Americans and their ancestors immigrated to the United States.
Faith Fact
In a 2013 survey, 56% of Americans said that religion played a "very important role in their lives" — a larger number than any other wealthy nation.
Country Profile
Population: 320 million
Major Religions: 47% Protestant, 23% unaffiliated, 21% Catholic, 6% other
Languages: 82% English, 11% Spanish, various others
Literacy: 99%
Poverty: 16%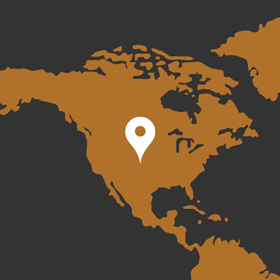 Ministry service area:
City
Ministry location:
New York, United States