Ministry Focus
Rochester, New York, is 360 miles northwest of Coney Island, Brooklyn, where the Robinsons ministered for 21 years. When the Robinsons finished what God had called them to do in Coney Island - plant a church and establish ongoing outreach to the community - He then led them to Rochester. They feel privileged and excited to have this opportunity to bring Christ and His message of hope and redemption to people living in suburban government-subsidized housing developments and within the inner city of Rochester. One way Marvin and Denise minister, among others, is inviting church groups to visit and have an opportunity to minister along with them in Bible clubs for children, open evangelism, and in projects for the elderly (home carpentry and painting, etc.). Every spring and summer they schedule as many groups as they can in order to reach scores of children and adults with the Gospel of Jesus Christ as well as pass along the vision they have for reaching the inner city for Jesus Christ. (Anyone interested need only email or call them.) Marvin says, "We are continually blessed by the faithfulness of God and the love and provision from His people to our ministry."
Faith Story
Marvin Robinson was born in South Carolina and grew up in New York City. He came to faith in Christ at the age of 12 through the witness of his pastor. Although he dreamed of playing professional baseball from the age of 5, Marvin also felt a strong desire to serve the Lord as a missionary. Marvin was seriously injured in Vietnam, and his lifelong dream of a baseball career was out of the question; but he says, "I had no regrets because God opened the door for me to be in full-time service for Him." Denise came to faith in Christ through the ministry of Billy Graham, praying to receive Christ during a television broadcast and making a public profession of faith during the 1970 Crusade at Shea Stadium. She currently is doing a ministry called ASAP (Actively Serving and Proclaiming), which is tract mailing and holiday outreach. This ministry utilizes believers in Christ who would not ordinarily be available to serve the Lord full time, but would like very much to do so, such as senior adults, people with special needs, etc. The Bible Study she has in a senior adult facility with older-age seniors has moved online, and she leads another Bible Study online with women of various ages. She also started  a ministry called 'Buy-ways', an outreach of several people who share the Gospel while interacting and helping with the purchases of shoppers. Unfortunately, due to COVID-19, this ministry is on hold--but she is praying for the day it can return!  She also has the privilege of mentoring women. "Better late than never" she says when asked about her course of study with online college courses aiming for a degree in Religion/ Christian Counseling. She shares that God's mercies are truly new every morning and so great is His faithfulness to her.



WAYS TO SUPPORT

Marvin and Denise by making a financial donation using a Credit Card or by Direct Debit (ACH). 
Learn more about where this ministry happens
In colorful communities and along scenic highways, diverse people and landscapes span coast to coast
Iconic American traditions include Thanksgiving dinner, jazz music and the Super Bowl. They meld with eclectic examples of multicultural heritage: numerous local Chinatowns, family-owned taquerias and even cowboy boots, which originated among the nomadic Huns of eastern Europe.
The nation's landscape shows just as many contrasts — sandy beaches and rocky coastlines, open plains and vast deserts, rugged mountains and winding canyons, and abundant rivers and lakes.
The ideals of life and liberty that founded the United States have made the country one of the world's most prosperous, though not without dark chapters and present troubles. Crime, discrimination and ethics violations make regular headlines, and many people live below the national poverty level.
Families view education as essential to the pursuit of happiness, if not also a path to wealth and power for the most ambitious. Yet Americans also demonstrate a charitable spirit of generosity toward neighbors and nations in need.
Freedom of religion grants opportunity for all faiths, but Christianity holds particular influence in country's history and daily life.
Your participation with Missions Door supports ministry in the United States among college students, including many international students, in collaboration local churches. It also enables social outreach, church planting and leadership development in a wide variety of communities — among Native Americans and other cultural groups, and in urban and suburban settings where growing and changing demographics create new opportunities for the Gospel.
Cultural Snapshot
Aside from the Native American, Native Hawaiian and Native Alaskan populations, nearly all Americans and their ancestors immigrated to the United States.
Faith Fact
In a 2013 survey, 56% of Americans said that religion played a "very important role in their lives" — a larger number than any other wealthy nation.
Country Profile
Population: 320 million
Major Religions: 47% Protestant, 23% unaffiliated, 21% Catholic, 6% other
Languages: 82% English, 11% Spanish, various others
Literacy: 99%
Poverty: 16%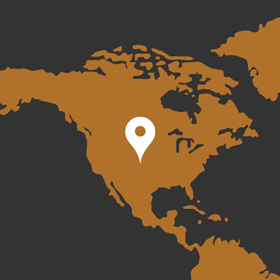 Ministry service area:
City
Ministry location:
New York, United States