Ministry Focus
Jill has spent the majority of her life as a missionary. Beginning in 1978, she joined Missions Door as a Campus Ambassador serving in San Jose and Fullerton, California, and at a private law school in Salem, Oregon. From 1986-1989 Jill lived in México and Arizona, working with Food for the Hungry International to found and develop a program for church and university work teams to serve in México and Kenya with groups from Harvard to Berkeley. Jill also developed workshops on "Teaching Like Jesus" for teachers and pastors in Bolivia and México. In 1996 Jill founded Students and Tutors Achieving Real Success (STARS), a ministry of Lake Avenue Church in Pasadena, where hundreds of volunteers mentor and tutor at-risk students. Entering the homes of these students, Jill recognized the connection between children's success and the high cost of housing. The lack of decent affordable housing in good neighborhoods often results in multiple families squeezed into tiny apartments concentrated in one part of town, which breeds gangs, homelessness, crime and soaring dropout rates. Having lived and worked in Latin America, she helped start a Spanish-speaking church called Communidad de las Americas. She also brought to Pasadena the Parent Project, one of the top gang prevention courses for parents in the country. Jill became passionate about finding biblical solutions to the housing crisis. This led to her writing a book, Making Housing Happen: Faith-Based Affordable Housing Models, which was revised in 2012, with help from her husband Anthony Manousos. This book provides a glimpse into creative ways that churches across the United States are addressing this urgent need. In 2015 parts of this book were translated into Spanish. Titled Vivienda y justicia: una perspectiva biblica, this book has been shared with Latin American pastors and leaders. Jill is a Catalyst using an ABCD approach–Asset-Based Community Development–to connect resources in the community with those who need that resource. This involves forming teams and coalitions around the passions and gifts in the community to meet the needs of the most vulnerable. As part of the annual Palm Sunday Peace Parade, she helped organize a gun buyback and "Peace-source" Fair after the Sandy Hook shootings. For the 2015 Peace Parade, she organized a prayer vigil at the site where Kendrec McDade, an unarmed black youth, was shot by police; over 120 people attended and worshipped together, including several pastors and McDade's mother. Jill helps those in need to bring justice and healing by telling their story. Jill works with local churches seeking ways to retain Pasadena's racial and economic mix and to house Pasadena's sizeable homeless population. Jill's broad experiences with pastors across all denominations and her work with small rural villages in Latin America give her a unique voice of hope in our country today. She has seen God transform lives, churches and communities through the power of Christ's redeeming love.
Faith Story
Jill grew up in Yorba Linda, California. Her family attended various churches. As a sophomore in high school she was invited to a Bible study, where she heard of knowing Jesus Christ personally. It was there she gave her heart to Christ as her Lord and daily seeks to follow Christ.



WAYS TO SUPPORT

Jill by making a financial donation using a Credit Card or by Direct Debit (ACH). 
Learn more about where this ministry happens
In colorful communities and along scenic highways, diverse people and landscapes span coast to coast
Iconic American traditions include Thanksgiving dinner, jazz music and the Super Bowl. They meld with eclectic examples of multicultural heritage: numerous local Chinatowns, family-owned taquerias and even cowboy boots, which originated among the nomadic Huns of eastern Europe.
The nation's landscape shows just as many contrasts — sandy beaches and rocky coastlines, open plains and vast deserts, rugged mountains and winding canyons, and abundant rivers and lakes.
The ideals of life and liberty that founded the United States have made the country one of the world's most prosperous, though not without dark chapters and present troubles. Crime, discrimination and ethics violations make regular headlines, and many people live below the national poverty level.
Families view education as essential to the pursuit of happiness, if not also a path to wealth and power for the most ambitious. Yet Americans also demonstrate a charitable spirit of generosity toward neighbors and nations in need.
Freedom of religion grants opportunity for all faiths, but Christianity holds particular influence in country's history and daily life.
Your participation with Missions Door supports ministry in the United States among college students, including many international students, in collaboration local churches. It also enables social outreach, church planting and leadership development in a wide variety of communities — among Native Americans and other cultural groups, and in urban and suburban settings where growing and changing demographics create new opportunities for the Gospel.
Cultural Snapshot
Aside from the Native American, Native Hawaiian and Native Alaskan populations, nearly all Americans and their ancestors immigrated to the United States.
Faith Fact
In a 2013 survey, 56% of Americans said that religion played a "very important role in their lives" — a larger number than any other wealthy nation.
Country Profile
Population: 320 million
Major Religions: 47% Protestant, 23% unaffiliated, 21% Catholic, 6% other
Languages: 82% English, 11% Spanish, various others
Literacy: 99%
Poverty: 16%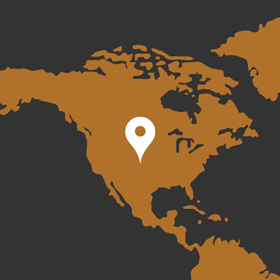 Ministry service area:
City
Ministry location:
California, United States